Consolidation Loan – 11.95% (Typical APR 12.68%)
Too many repayments to make each month? Our consolidation loan can help ease the burden of those monthly bills by consolidating them into one easy payment. Simply talk to us today for further details.
Consolidation Loan Product Features: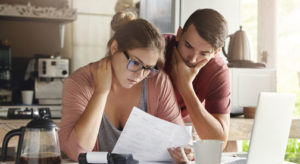 Minimum Loan €1,000
Maximum loan €80,000.
Flexible loan term – maximum 60 months.
Free Loan Protection Insurance (Terms and Conditions apply).
Range of repayment methods available.
Approval typically within 24 hours.
No penalty for early repayment
Repayments
Free Loan Protection Insurance. Terms and conditions apply.
Whilst every care has been made in the production of this information, it is for illustrative purposes only and to give you an overview of the potential cost of borrowing at First Choice Credit Union. It does not constitute a loan offer.
Warning – This new loan may take longer to pay off than your previous loans. This means you may pay more than if you paid over a shorter term. Warning – If you do not meet the repayments on your loan, your account will go into arrears. This may affect your credit rating which may limit your ability to access credit in the future. Loans are subject to approval. Terms & Conditions apply.