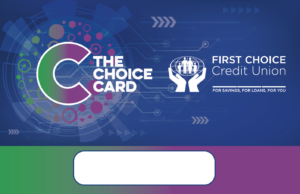 As a Member of First Choice Credit Union you can now avail of discounts with local participating businesses.
Drop into any of our branches in Achill, Balla, Ballyhaunis or Castlebar to pick up your Choice Card and start making great savings today.
Participating Business

Discount/Offer

Website

       
Egans Jewellers
10% off non sale items.
www.egansjewellers.ie
Mulroy's Bar & Brasserie
Free tea or coffee with every full lunch purchased between Monday- Thursday.
www.mulroys.ie
Mulroy's Beauty & Medical Grade Laser Clinic
20% off Environ facial treatment.
facebook.com/mulroysbeautyclinic
Unit 7
10% off non sale items.
facebook.com/clothingmayo
Cuppa Joe's
15% off from 2pm – close everyday (excluding daily specials.)
facebook.com/CuppaJoesCastlebar
Deely Opticians
10% off full price items only.
facebook.com/deelyopticians
Don Racine
10% off full price items only. Can't be used with other promotions.
www.donracine.ie
Kelly's Barbers
€5 off a wash, cut and style or €5 off a hot towel shave. Available in walk in shop only.
www.kellysbarbers.com
Hurst Heating & Plumbing
5% on bathroom ware (excluding electric showers) – Castlebar Only
www.hurst.ie
Kelly's Hair & Beauty Salon
10% of colour and highlights only.
facebook.com/KellysHairCastlebar
Functional Fitness
10% Off 3 Months Group Training Membership (Castlebar Gym)
www.functionalfitness.ie
Pauline Cawley Beauty Clinic
10% discount on your First Facial Treatment (Environ, Image, AlumierMD, Caci, & EndyMed)
www.paulinecawley.com
Mayo Leisure Point
10% discount on 1 hour Bowling. Mon-Fri only.
www.mayoleisurepoint.ie
Padraic McHale Menswear
10% off full price stock only.
www.mchalemenswear.ie
Sheridan Electrics
5% off all appliances (excluding Apple & Dyson).
facebook.com/sheridanelectrics
Stauntons Barbers
10% off all products.
www.stauntonsbarbers.com
Rabbettes Furniture
5% off full price items. Cannot be used with other promotions or gift cards. Offer excludes flooring. T's&C's apply.
www.rabbettesfurniture.ie
facebook.com/RabbettesFurniture
Bronntanas Gift & Craft Store
€5 off every €50 spent. €10 off every €100 spent.
www.bronntanas.ie
Brant Rock
10% off full price stock items only.
facebook.com/BrockCastlebar
Kilkelly Luggage
JCB Hard Shell Cases Only.
facebook.com/KilkellyTravel
Finn Footwear
10% discount on non sale items. Ballyhaunis & Kiltimagh.
www.finnfootwear.com
Alt na Croí Pottery
10% off all items and pottery painting.
facebook.com/achillpottery
Phillips Menswear & Footwear, Ballyhaunis
10% off all full price items.
www.phillipsshoes.ie
McGarry's Womenswear, Ballyhaunis
10% off all full price items.
facebook.com/mcgarryswomenswear
Achill Experience, Aquarium and Visitor Centre
10% off admission.

Mon to Sunday.

www.achillexperience.ie
Curley's Jewellers, Ballyhaunis
10% off all full price items.
facebook.com/curleysjewellers
Achill Knitwear
10% off all full price items.
www.achillknitwear.com
Golden Rule Driving School
15% off all driving lessons.
www.goldenruledriving.com
Relax from Stress
10% off  all services.
www.relaxfromstress.ie
Danolla's Diner & Takeaway
10% discount on all.
www.danollas.ie
It's A Natural Choice
15% discount off all services.
www.itsanaturalchoice.com
Deirdre Patten Designs
5% off any headpiece purchased.
facebook.com/deirdrepatten.designs
If any businesses throughout our Common Bond area would like to participate in the Choice Card scheme, please contact First Choice Credit Union on 094 9022969 or email marketing@fccu.ie.
TERMS & CONDITIONS
The Choice Card is for the use of First Choice Credit Union members only.
Each active First Choice Credit Union member, aged 16 years or more, will be entitled to one Choice Card.
The Choice Card can only be issued to personal or joint account members.
The member must produce their card at the time of purchase to avail of a Choice Card discount.
The member must have provided First Choice Credit Union with acceptable up to date photo identification and address verification documents to obtain a Choice Card.
The member must have provided their up to date contact details to First Choice Credit Union to avail of the Choice Card.
In the event of a lost Choice Card, the member will be entitled to receive one replacement Choice Card within any 12 month period*.
In the event of a damaged card, the member may receive a replacement card at any stage by bringing the damaged card to the credit union counter**.
First Choice Credit Union holds no responsibility for any issue or dispute arising between Choice Card holders and participating discount providers.
The card terms and conditions may be amended periodically by First Choice Credit Union at its sole discretion. Any changes will be available on this website.
*If a member's Choice Card has been lost or mislaid or stolen more than once during a 12 month period, First Choice Credit Union reserves the right not to issue a further replacement for a period of up to 12 months from the date of the first replacement card.
**First Choice Credit Union reserve the right to charge a small replacement fee in the event of multiple damages within a short time scale.