Do Your Bit to Help the Environment
We'd like to do our bit to help the environment and here is where you can help. By signing up to receive eStatements you can help us in our bid to reduce the amount of paper we issue as an organisation.
You can sign up for eStatements by logging into your online account and selecting Subscription Services from the menu.
You can also request an eStatement at any time by logging on and clicking on the Request eStatement Form button.
Note: All eStatements are generated overnight and will be available for members the following day. Once they have been generated, they will be available for members to view at any time from their online account.
Step-by-step Guide to Accessing Your eStatements
Step 1: Go to www.firstchoicecreditunion.ie, click on Online Banking and then Member Login.
Enter your First Choice Credit Union Member Number (found on your receipts and/or statement) and your Date of Birth. Click Continue.

You will then be asked to enter 3 digits from your 6 digit PIN. If you do not have a PIN, or if you have a 4 digit PIN, you can register for a new PIN online.

Step 2: You will now be at the Member's Area Home. To view or request an eStatement, select eStatements from the menu or click Find out more in the main screen.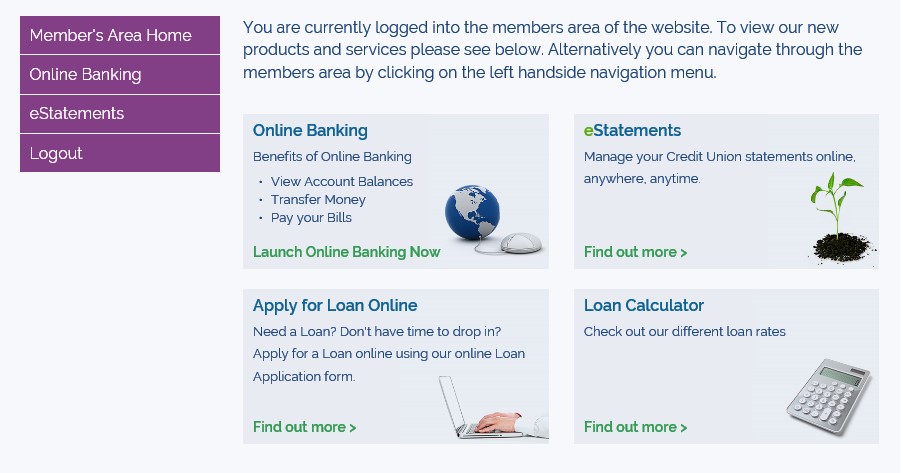 Step 3: If this is your first time requesting an eStatement, you will not have any eStatements available to view. Select Request eStatement Form to continue.
Step 4: Complete the form to request an eStatement. The Member Number and Name fields will be automatically filled out, so the only information you need to enter is the From and To fields.
Click Submit Form to continue.
Step 5: Once you have successfully made a request, it will be processed by the staff of First Choice Credit Union. Once your request has been approved, please allow up to 1 working day for an eStatement to be generated.
Step 6: Once your eStatement has been generated, it will be available for you on your online account as long as you remain a member of First Choice Credit Union. You can then download and print your eStatement at any time.
If you have any questions, you can speak to a member of staff on 094 9022 969.