THE CURRENT ACCOUNT & DEBIT CARD
Finally, a Real Choice!
You will now be able to manage your daily finances no matter where you are in the world. With access to your funds in-branch, online or on the app, Current Account from First Choice Credit Union gives you all the benefits you expect, but with the personal touch of your trusted credit union.
HOW TO OPEN A CURRENT ACCOUNT & APPLY FOR A DEBIT CARD
MEMBER WITH NO ONLINE ACCESS
Sign up to Online Banking and apply or
Apply in any of our branches
I AM NOT A MEMBER
Do you live, work or have a family home in the area?
Click here to find out how you can Join
HOW TO SWITCH TO THE CU CURRENT ACCOUNT 
FEATURES & BENEFITS
Easy to sign up

Overdraft available up to €5,000

Automate regular payments using Standing Orders & Direct Debits

Use in-store, online or at ATMs

Cashback available at participating retailers

Free Contactless payment
Transparent Fees

Apple Pay, Google Pay & Fitbit Pay

Globally accepted Mastercard® Debit Card

Stay in control with our Mobile App, eStatements and eFee Advices

Secure online shopping

24/7 support for lost/stolen debit cards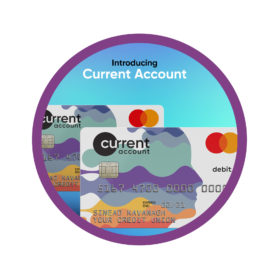 WE'RE SUPER COMPETITIVE ON FEES & CHARGES 
Digital Wallets - Apply Pay, Google Pay and Fitbit Pay.

Current Account Debit Mastercard can now be added to Apple Pay, Google Pay and Fitbit Pay digital wallets, making it easier for you to make Contactless payments. The use of digital wallet payments provides a safer more secure way to pay that removes the need to handle payment cards, touch physical buttons or exchange cash. It's the modern way to pay, particularly given the times we live in.
And with the Credit Union Current Account you can tap away in the knowledge that Contactless payments are free.
To set-up Apple Pay, Google Pay and/or Fitbit Pay, just download the app, enter your Debit Card details by scanning the card or entering the details manually, and submit a One Time Passcode. Use wherever Contactless payments are accepted. You simply hold your mobile phone and/or Fitbit device near a payment terminal to make a Contactless payment.
HOW TO APPLY FOR YOUR OVERDRAFT ONLINE
FAQ's & FURTHER INFORMATION
Who can apply for a Current Account?
All First Choice Credit Union Members, aged 16 or over, can apply for a Current Account via online banking or through their local First Choice Credit Union Branch.
If you are 16 or 17 years of age, we will require the consent of your parent or guardian for you to open an account. All non-members will have to open a Share account (i.e. become a member) before they can apply for a Current Account.
Can I use my card abroad?
You can use your card anywhere in the world where the Mastercard Acceptance Mark is displayed. Foreign exchange fees and charges apply where the transaction is performed outside the Eurozone, details of which are contained in our Fees & Charges Leaflet.
What happens if my debit card is damaged, lost or stolen?
Please call the Card Services Team on 01 693 3333 (The Customer Services line is open 24 hours a day, 7 days a week. Calls are charged at your standard network rate. Calls from mobiles may be higher). We will then cancel your card immediately and a new card and PIN will be issued to you at your request.
Currency Conversion Calculator
When you use your Debit Card for purchases in foreign currency or ATM withdrawals in foreign currency, these transaction will attract additional fees and charges that are charged to your Current Account as they occur, typically on the date the transaction is posted to your Current Account.
Mastercard foreign exchange rates will also apply and are subject to change.
This currency conversion calculator allows you to see the foreign exchange rates set by Mastercard to convert from the transaction currency as well as the European Central Bank's euro foreign exchange reference rates for the EEA country currencies and the fees and charges that apply.
Are there any instances where concessions are provided?
From time to time, we may provide concessions to Account fees and charges to you if you are an eligible student.
You may be eligible for these student concessions if you are:
(a) an applicant for an Account or an Accountholder;
(b) aged between 16 and 25 years inclusive; and
(c) pursuing a full-time course of study for one academic year or more in a secondary school or third level
institution recognised by the Central Applications Office (CAO), where full-time equates to 21 or more
hours per week.
Please see the Current Account Terms & Conditions Booklet for further information.
Can I change my Debit Card PIN?
Yes. You can change your card PIN to something more memorable at most ATM machines. You just need to have your card available, enter your existing card PIN and follow the instructions.
What do I need to know about fraud and protecting my account?
Dear Member,
We are moving your Debit Card Issuer for a seamless experience.
On 31 December 2020, the Brexit transition period is due to end.  We are writing to advise you of the actions we are taking to ensure that your debit card will not be adversely affected by this change.  No further action is required by you at this stage, but this letter sets out information about what is changing.
Your Mastercard Debit Card provided via First Choice Credit Union will no longer be issued by Transact Payments Limited and will instead be issued by Transact Payments Malta Limited (TPML). This change will take effect on 31 December 2020.
TPML is a company incorporated in Malta under registration number C91879, the registered office of which is Vault 14, Valletta Waterfront, Pinto Wharf, Valletta. Malta. It is regulated by the Malta Financial Services Authority ("MFSA") under Malta's Financial Institutions Act as an electronic money issuer. TPML will become the issuer of your payment card pursuant to a licence from Mastercard.
There will be no change to your card, and you can continue to use it as usual. There will be no change to any charges, fees or functionality. There will be a change to your Current Account Terms and Conditions – (Link) to refer to TPML as the issuer of your card and you can read the new and updated set of terms.
Here is a brief summary of the changes we have made to your Terms and Conditions as a result of the appointment of TPML:
The card issuer responsible for providing your Debit Card will change to TPML, as described above.
If you need to make a complaint about TPML's service, you can do so through the Office of the Arbiter for Financial Services in Malta. Any complaints about First Choice Credit Union services should still be directed to us directly through our complaints handling procedure, or to the Irish Financial Services and Pensions Ombudsman.
We have included updated definitions of 'Applicable Law' and 'Regulatory Authority' to make clear which laws and regulators are relevant to our provision of the Current Account, Debit Card and related services to you.
We have updated clause 57 to specify that limitations of liability in the Current Account Terms and Conditions also apply to our affiliates and service providers.
In accordance with the new Cross Border Payments Regulation, more information is now provided about how you can compare charges for currency conversions, and this can be done on currentaccount.ie or our website firstchoicecreditunion.ie/current-account/
We have updated and clarified the circumstances in which we can terminate / cancel or suspend your Debit Card, including where you have given us false information, you have a transaction declined due to a lack of available balance, you have been (or may in the future be) using the Debit Card fraudulently, your use of the Debit Card might damage our systems or our reputation, or where you have become bankrupt.
Due to the transfer, TPML will now take TPL's place as a controller of your personal data in accordance with data protection law (including the GDPR).  This transfer of your personal data is done in order to comply with our and TPML's regulatory requirements and in connection with the contract for the issue of your Card.  For more information on how TPML will process your personal data, please see  TPML's privacy statement – (Link).
These changes to the Current Account Terms and Conditions will automatically apply to you once the transfer to TPML as card issuer takes place.
If you are happy with these changes, you do not need to do anything and we will consider your continued usage of your card as your acceptance of the updated terms and conditions that have been made available to you. However, if you do not want to continue with your card agreement, you can cancel it free of charge at any time by contacting us by phone (094 90 22969) or in Branch. You will be provided with further information about the process once your cancellation request is received.
Please do not hesitate to contact us should you have any queries at all.
Kind regards,
First Choice Credit Union
What is PSD2 and how does it affect me?
Payment Services Directive 2 (PSD2) – which came into force on September 14th 2019 are regulations introduced to bring additional safety and security to your online banking.
These changes were introduced in order to protect consumers from increased online fraud. This additional security is known as Strong Customer Authentication (SCA) and was introduced to both our browser-based services and Mobile App.
For further information please go to: https://currentaccount.ie/psd2/
How do I transfer or switch to the Current Account from my bank?
Is there a limit on Current Account balances?
Yes. Where a member has a sole or joint First Choice Credit Union Current Account, the member(s) may maintain a maximum balance of €20,000 on that account separately from their savings account.
Note: €20k current account limit is per Account and not per member. So, a current account has a maximum limit of €20,000 regardless of whether joint or single.
Is there a daily amount limit on Current Account Debit Card point of sale transactions?
Yes, a daily limit applies to the value of purchases that can be made on any one day using your card. The daily value limit is currently €5,000.
Mastercard is a registered trade mark and the circles design is a trademark of Mastercard International Incorporated. This card is issued by Transact Payments Malta Limited pursuant to licence by Mastercard International.