THE CURRENT ACCOUNT & DEBIT CARD
Finally, a Real Choice!
You will now be able to manage your daily finances no matter where you are in the world. With access to your funds in-branch, online or on the app, Current Account from First Choice Credit Union gives you all the benefits you expect, but with the personal touch of your trusted credit union.
HOW TO OPEN A CURRENT ACCOUNT & APPLY FOR A DEBIT CARD
MEMBER WITH NO ONLINE ACCESS
Sign up to Online Banking and apply or
Apply in any of our branches
I AM NOT A MEMBER
Do you live, work or have a family home in the area?
Click here to find out how you can Join
HOW TO APPLY FOR YOUR OVERDRAFT ONLINE
FEATURES & BENEFITS
Easy to sign up

Overdraft available up to €5,000

Automate regular payments using Standing Orders & Direct Debits

Use in-store, online or at ATMs

Cashback available at participating retailers

Free Contactless payment
Transparent Fees

No surcharge interest on overdrafts

Globally accepted Mastercard® Debit Card

Stay in control with our Mobile App, eStatements and eFee Advices

Secure online shopping

24/7 support for lost/stolen debit cards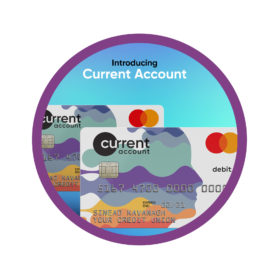 FAQ's & FURTHER INFORMATION
Who can apply for a Current Account?
All First Choice Credit Union Members, aged 16 or over, can apply for a Current Account via online banking or through their local First Choice Credit Union Branch.
If you are 16 or 17 years of age, we will require the consent of your parent or guardian for you to open an account. All non-members will have to open a Share account (i.e. become a member) before they can apply for a Current Account.
Can I use my card abroad?
You can use your card anywhere in the world where the Mastercard Acceptance Mark is displayed. Foreign exchange fees and charges apply where the transaction is performed outside the Eurozone, details of which are contained in our Fees & Charges Leaflet.
What happens if my debit card is damaged, lost or stolen?
Please call the Card Services Team on 01 693 3333 (The Customer Services line is open 24 hours a day, 7 days a week. Calls are charged at your standard network rate. Calls from mobiles may be higher). We will then cancel your card immediately and a new card and PIN will be issued to you at your request.
Currency Conversion Calculator
When you use your Debit Card for purchases in foreign currency or ATM withdrawals in foreign currency, these transaction will attract additional fees and charges that are charged to your Current Account as they occur, typically on the date the transaction is posted to your Current Account.
Mastercard foreign exchange rates will also apply and are subject to change.
This currency conversion calculator allows you to see the foreign exchange rates set by Mastercard to convert from the transaction currency as well as the European Central Bank's euro foreign exchange reference rates for the EEA country currencies and the fees and charges that apply.
Mastercard is a registered trade mark and the circles design is a trademark of Mastercard International Incorporated. This card is issued by Transact Payments Limited pursuant to licence by Mastercard International.