Student Loan – 6.50% (Typical APR 6.70%)
Our special student loan rate is available at 6.50% (Annual Percentage Rate 6.70%).
The third level student must be a First Choice Credit Union Personal Current Account and Debit Card Holder at the time of loan draw down.
The borrower must be the person or persons upon whom the affordability calculation is based.
Student Loan Product Features: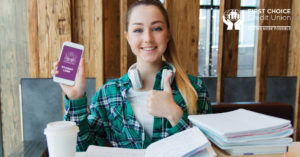 Minimum loan is €100. Maximum loan is €25,000.
Eligible Loan Purpose:

Course Fees for Third Level Graduate and Post Graduate qualifications.
Course Fees for Second Level private fee paying colleges.
Up front cost of Third Level Campus Accommodation.
Computer hardware and software purchases for Second and Third Level students.

Terms of up to 5 years available (for computer equipment the loan term is three years maximum).
Supporting documentation will be required. Please see below STUDENT LOAN INFORMATION SHEET.
Proof of acceptance onto the college course or invoices for the computer equipment is required.
Loans of eligible members are covered by free loan protection life insurance (subject to eligibility).
Repayments
Free Loan Protection Insurance. Terms and conditions apply.
Whilst every care has been made in the production of this information, it is for illustrative purposes only and to give you an overview of the potential cost of borrowing at First Choice Credit Union. It does not constitute a loan offer.
Student Current Account
Students can also avail of our Student Current Account with free day to day banking. Just some of the features and benefits are a Globally accepted Mastercard® Debit Card, Free contactless payments, Digital wallets with Apple Pay, Google Pay & Fitbit Pay, Free Online Banking & Mobile App, Use in-store, use securley online or at ATMs, Cashback available at participating retailers & more.
BRENDAN HOPKINS BURSARY
WIN ONE OF FIVE €1,000 BURSARIES!
CLOSING DATE 30th SEPTEMBER, 2023.
Loans are subject to approval. Terms & Conditions apply. If you do not meet the repayments on your loan, your account will go into arrears. This may affect your credit rating which may limit your ability to access credit in the future.