Research has revealed that although more than half of the population in Ireland owns a credit card, a whopping six in ten have no idea what interest rate they are paying. Even among those in the survey who said they do know what interest they were paying, the results proved differently.
For example, a significant 20% who said they were aware of the interest rate thought they only paid between 6% and 10%. When in reality, credit card interest in the Irish market typically ranges from 13% to 23%.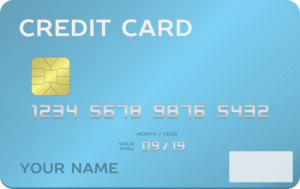 The study also revealed a worrying lack of knowledge around how credit card interest is applied. When the four in ten who said they knew what interest rate they were paying were asked about how the interest worked, there were a lot of incorrect assumptions. Just over a quarter correctly said they paid interest on the full balance from date of transaction to date of payment, as well as interest on the outstanding balance. 40% actually said they didn't pay any interest!
The reality with this lack of knowledge is that people will end up paying more than they anticipate when they use their credit card, as they are not factoring in the – often hefty – interest charged. This can throw their household budget out of whack and ensure they remain in a cycle of unnecessary debt.
The best course of action is to clear the balance in full, bin the card and be done with it. However, credit cards have always been hugely popular so, for the majority this is unlikely to happen. Indeed, only 11% of credit card users in Ireland say they plan on binning the card in 2019. So at the very least, credit card users should get to grips with how their credit card works.*
3 Quickfire Tips to tackle your Credit Card
Wipe your Credit Card balance in full and on time every month.
If you can't complete tip number 1, ensure you pay the minimum repayment in full and on time every month.
NEVER miss a credit card payment. This can be a major red flag to potential future lenders if/when you need to borrow for a mortgage, car etc. The Central Credit Register in the Republic of Ireland is a centralised system which stores information on all loans of €500 or more, including credit cards and even overdrafts.
If you have any questions or queries, please don't hesitate to contact us on 094 9022969, email us at info@fccu.ie or drop into any of our branches in Achill, Balla, Ballyhaunis or Castlebar.
*All findings references are contained in a national study commissioned by the Irish League of Credit Unions, and carried out by independent research company, i-Reach Insights, in December 2018. 1,000 adults responded to this online survey.
Repayments
Free Loan Protection Insurance. Terms and conditions apply.
Whilst every care has been made in the production of this information, it is for illustrative purposes only and to give you an overview of the potential cost of borrowing at First Choice Credit Union. It does not constitute a loan offer.