The number of parents saying they are struggling with back-to-school costs is on the rise. A new national survey has found that more than three quarters of parents (78%) find the costs a financial struggle. This is a substantial 11% increase on last year.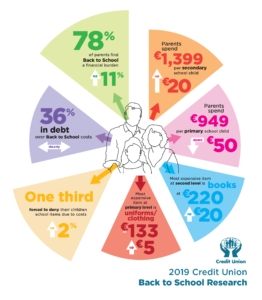 The findings were revealed in a new national survey by the Irish League of Credit Unions. Half of parents said meeting costs was their biggest back-to-school related worry. One third said they would be forced to deny their children certain school items this year because they could not afford them. Extracurricular activities and new school shoes were amongst the items to be cut from the budget this year.
Michael Boland, Lending and Business Development Manager of First Choice Credit Union said the credit union is all too aware of the struggle for parents this time of year. "We frequently assist parents throughout our common bond around this time of year who need help either budgeting for the back-to-school spend, or taking out a loan to see them through. It's understandable that these costs are a financial burden for so many when parents are paying €949 per primary school child. The spend is even higher for parents with secondary school children who are forking out and €1,399 per child. We want parents to know we are here to help, if only to have a chat about how they can budget for the upcoming spend."
The survey also found that there was a slight drop (1%) in the numbers approaching moneylenders. Parents saying they are relying on credit cards to cover the back-to-school spend also decreased by 5%, falling from 18% to 13%.
"We consistently try to provide financial education to parents throughout our common bond and inform them of the extremely high interest rates charged by moneylenders. We are happy to see a fall in the numbers going this route, but it is still a concern that 3% of parents will approach moneylenders in an effort to cope with costs. Our message would be to chat first to us in the credit union before making this decision. Using moneylenders can result in a recurring cycle of unnecessary debt and panic borrowing" said Michael.
Michael continued; "If for example a parent opted to take a €500 Credit Union Back to School loan instead of using a moneylender, the APR rate would be 12.67%*, compared to rates of over 100% which some moneylenders can charge. Our loan is typically approved within 24 hours and there are no hidden transaction fees or charges. As always, we are happy to work with parents to structure repayments in a way that suits their individual circumstances. We are more than happy to assist anyone who might need a little extra financial assistance at back to school time."
* For a €500, 1 year variable interest rate loan with 52 weekly repayments of €10.22, an interest Rate of 11.95%, a representative APR of 12.67%, the total amount payable by the member is €530.91. Information correct as at 16/07/2019.
For further information please contact our lending team on 094 9022969, email us at loans@fccu.ie, apply online below or drop into any of our branches in Achill, Balla, Ballyhaunis and Castlebar.