Irish holidaymakers are likely to be more price-conscious than ever in 2019 with the economic uncertainty surrounding Brexit. The annual holiday will however continue to remain a staple event for Irish households this year, despite cost being a significant factor.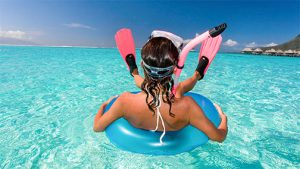 The travel experts at Lonely Planet for example do not forecast any drop in consumers holidaying this year. They are predicting that people will opt for off-the-beaten track destinations in order skip the price tags that come with tourist traps. Destinations like Poland, Slovenia and Albania are tipped to rise in popularity for those searching for a bargain this year.
With consumers on the hunt for the best deals, it's likely that large numbers will book their annual holiday early on in the year. Planning a budget as early as possible is just as important as booking early to keep spending in check. Even with planning ahead and budgeting, many households are still likely to need a little extra assistance to fund their break.
Those who need to borrow should avoid high-cost credit such as moneylenders and should resist the temptation to put their holiday on the credit card. Credit unions have long been trusted providers of affordable and straightforward loans. First Choice Credit Union, for example, is offering a holiday loan this year with a good value rate of 11.95% (12.68 APR %)*.
Michael Boland from First Choice Credit Union said: "We are very conscious of ensuring that our credit union members are availing of the best value possible when they decide to take a well-earned holiday. We would encourage anyone in our common bond planning on booking a holiday to have a chat with us about our loan, which we offer at an affordable APR rate and which does not carry any hidden admin fees. At First Choice Credit Union we have a flexible approach and we are happy to structure repayments in a way that works best for our members, which means there is no financial stress involved in planning their holiday, and they can focus on relaxing."
Michael continued: "There are numerous other benefits, for example, our members are free to pay off their loan early, make additional lump sum repayments or increase their regular repayments all without a penalty. We are happy to accept loan applications from all members – those we see every day, those we may not have used their account in years, as well as those who have only just become members. Remember, at First Choice Credit Union, you are more than just a customer, you are a valued member and you will always be our number one priority."
*For a €3,000, 1 year variable interest rate loan with 52 weekly repayments of €61.27, an interest Rate of 11.95%, a representative APR of 12.68%, the total amount payable by the member is €3,185.70.  Information correct as at 16/04/2019.
For further information please contact our lending team on 094 9022969, email us at loans@fccu.ie , apply online below or drop into any of our branches in Achill, Balla, Ballyhaunis and Castlebar.

Repayments
Free Loan Protection Insurance. Terms and conditions apply.
Whilst every care has been made in the production of this information, it is for illustrative purposes only and to give you an overview of the potential cost of borrowing at First Choice Credit Union. It does not constitute a loan offer.