First Choice Credit Union, and its sister credit unions around Ireland, have been named the highest regarded organisations providing financial services in Ireland. Credit unions topped the financial services category in the Ireland RepTrak® 2019 study. With a score of 80.3, they were far ahead of the average score of 59.0 in the sector.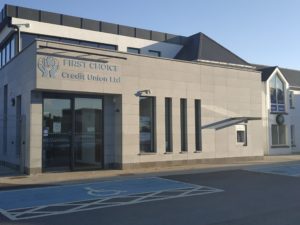 Credit unions were also ranked number two out of 100 companies in the overall study, which measured the level of trust, respect, admiration and esteem for 100 of the most important organisations in Ireland. Bord Bia (the Irish Food Board) was in first place with the IRFU in third place in the overall survey.
The Ireland RepTrak® 2019 study is based on the perceptions of over 7,000 members of the public gathered during January and February 2019. Organisations were ranked on a Reputation Pulse score from 0-100. The study found that credit unions were ranked very highly for willingness to welcome people into their community.
Speaking about the achievement, Shane Melia, Marketing Officer of First Choice Credit Union said "We are proud to be part of a movement that is regarded so highly across the country. Our dedicated staff and volunteers genuinely care about what our members want, and this is why we have consistently tailored our services and products to our members' specific needs. We are delighted to celebrate this good news and we would like to sincerely thank all of our valued members for their continued loyalty."
Shane continued "We have forged a strong bond with our members and indeed the wider community not just for our commitment to the provision of member-driven, not-for-profit savings and loan services, but also through our programme of sponsorship and donations to local sporting clubs, youth initiatives and charities. We always stand ready and willing to support and assist those living or working in the Achill, Balla, Ballyhaunis & Castlebar areas. I would encourage anyone in the community who feels they could benefit from affordable and straightforward credit, or any of the many services we offer, to drop in for a chat and find out how we can be of help."
For further information please call First Choice Credit Union on 094 9022969 or email info@fccu.ie.